Vermont Marble Balance Tables and Slabs
VERMONT MARBLE™  BALANCE TABLE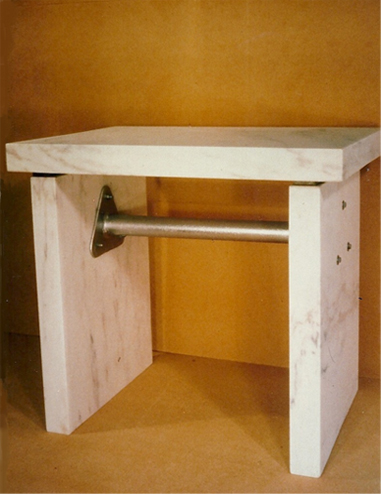 Vermont Marble™ is quarried, fabricated, and inspected by us right here in Vermont.  Its natural characteristics ─ density properties, absorption rates, shock and vibration reduction slide ─ combine with the right hardness classification for the ultimate in dampening effect and elimination of vibration.  This allows for the clear reading of analytical instruments, not to mention its natural beauty!  No other manufactured table material compares to the stability of Vermont Marble™ .
With surface and hardware options, this table is suitable for many laboratory, analytical, semiconductor, and clean room environments.  The legs are reinforced with a steel support pipe.  All edges are rounded, and both the table top and legs are 3" thick.  The marble is easily cleaned with an alkaline cleaner.
Overall dimensions:  
35" wide x 31" high x 24" deep x 3" thick**
– Standard Matte Machined finish
Please allow 3-4 weeks prior to shipment. If polished surface, sealant, or stainless steel fittings are required, an extra charge will apply.
Weight: 700 lbs.
MADE IN USA
VERMONT MARBLE SLAB
The Vermont Marble™ Slab is for use on laboratory furniture.   It substantially reduces vibration and shock where a Vermont Marble™ Balance Table cannot be used.
Dimensions:
13″ x 20″ x 2″ thick* *
– Standard Matte Machined Finish
If polished surface or sealant is required, an extra charge will apply.
Please allow 7-10 days prior to shipment
Weight: 60 lbs.
MADE IN USA
**Custom sizes available upon request as is RUSH option. A surcharge will apply.
Both items are available in granite – call for pricing.
How to care for your Vermont Marble™ Balance Table or Slab.